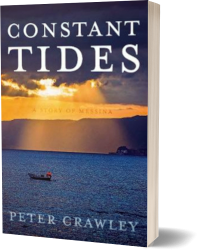 Constant Tides
In the early hours, the young woman steals through the deserted streets towards the harbour to meet her fiancé, for Lilla and Enzo are running away to a new life in America. Yet, two obstacles stand in their way. The first they have foreseen, for as everyone knows Don Carmelo Ruggieri will stop at nothing to prevent his son eloping with the daughter of a lowly fisherman. And the second, which no one could predict, is the 'Terremoto dei Terremoti'; for the date is 28th December 1908, the day Providence has chosen to tear down the great city of Messina.
In July 1943, Mira receives a visit from Lieutenant Aldo de la Grascia at her family home in the village of Ganzirri. Mira is fond of the officer and without his continuous gift of provisions, her café would have closed long ago. However, the war has already made her a widow and Mira isn't sure if she is ready to love again. Then, late one night, an Italian sailor knocks on her door and asks her to help his companion, a wounded British naval officer.
And in the summer of 2018 on the beach at Capo Peloro, Angelica is intrigued by an Englishwoman who speaks Sicilian in the Messinese dialect and who seems more than a little melancholy. In the afternoon, the woman goes for a swim and is caught in the strong tides that run through the Strait. Angelica wonders whether the woman has put herself in danger intentionally and knows there is little that can be done to prevent her from drowning; that is until a feluca appears.
A three-part novel based on historical events, Constant Tides follows the loves of three courageous women through the spring, summer and autumn of their lives in the Strait of Messina, Sicily.