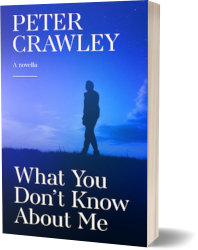 What You Don't Know About Me
A woman alone, a clandestine immigrant on the run and a journalist looking for a story he's going to wish he'd never found.
"What are you going to do with him?" he asked.
"Being as young Daniel here is sixteen and therefore a minor, we are unable to hand him over to the Border Force; so, we will be taking him back to the nick and hanging about until a representative of social services pitches up to take charge of him."
"And then?"
"And then he'll very probably be found hostel accommodation, which he will immediately skip and some low-life will sign him up to ferry drugs about for a County Lines gang."
A car pulls up behind them; the driver, a woman, gets out and dashes into the bushes. It is clear to Simon that Shona has been drinking, so to save her from arrest he drives her home, with the police and Daniel following.
Four months later, a body is found on a building site in Thornton Heath and soon afterwards, a young man turns up at Shona's door.